Roswell Honda celebrates eco-friendly dealership; 
New store opens 16 months after Winter Storm Goliath.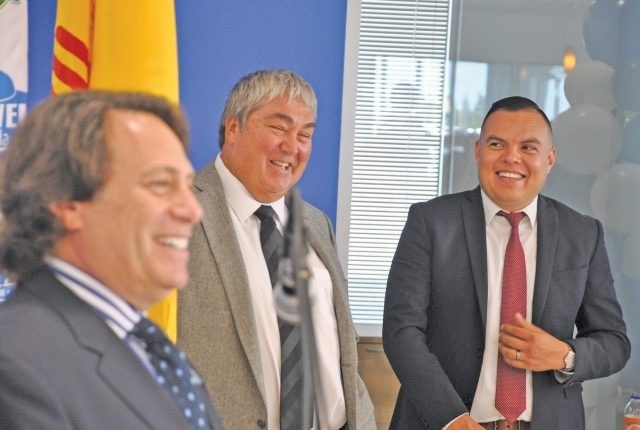 Adversity can sometimes spur innovation and make a business stronger, Roswell Honda officials said Tuesday at the re-opening of the dealership, one of the cave-in casualties of Winter Storm Goliath.
    The new, $3.6 million showroom and sales office, equipped with solar panels and energy efficient features, is nearly neutral in its energy use.
    "We are very, very, very proud to be part of Honda's global effort to preserving and protecting the environment, which is the reason why we are here today," Ricky Granado, general manager of Roswell Honda, said at Tuesday morning's grand re-opening. "Our customers already have the peace of mind of knowing that they are purchasing a fuel-efficient Honda, and now they have the peace of mind in knowing they are purchasing it from a dealership that has the aligned efforts of Honda in mind as far as protecting our environment and being eco-friendly."
    Roswell Honda received a platinum-level environmental leadership award from Honda, one of 19 Honda dealerships worldwide to receive the highest environmental award Honda offers.
    Tom Krumland, owner/ founder of Roswell Honda, said the new building is categorized by Honda as generation-three, a step above the generation-two building that was the victim of Winter Storm Goliath in late December 2015.
"It's the image that Honda wants to project for all their Honda stores," Krumland said.
    The roof of the prior Roswell Honda dealership, which opened 10 years ago, collapsed after the record-setting snowfall of Winter Storm Goliath, which closed the Roswell airport for all or part of four days.
The nearly 2 feet of snowfall began Dec. 26, 2015, when Roswell officially received 3.2 inches, continuing into Dec. 27, when Roswell had a one-day record 12.4 inches of snow. A trace of snowfall occurred Dec 28, followed by another 1.2 inches on Dec. 29, while temperatures stayed unusually cold, with wind gusts of 40 to 80 mph creating snowdrifts up to 10 feet.
    Roswell's Coca-Cola plant, the Millennium building at the airport, Pecos Flavors Winery, the Shamrock gas station on West Second Street, Tascosa Office Machines, Roswell Honda and Roswell Toyota all sustained damages to their commercial buildings from the heavy snowfall accumulations.
No one was injured during the Roswell Honda collapse and only two vehicles received minor cosmetic damage. The service department at the Roswell Toyota, also owned by Krumland, was also damaged beyond repair during the snowstorm. For months, Roswell Honda conducted its business operations out of modular buildings in the parking lot.
    "So because of a disaster called Goliath … this store took almost a complete rebuild," Krumland said. "So it was a little over 14, 15 months. Not only did we have to rebuild the store, but we had to demolish the original store. So there were a lot of, I guess, kinks that we had to work through."
Toby Gross of TNT Construction of Roswell, which built the new, $3.6 million Roswell Honda dealership, said when the former building's roof collapsed, a 6-inch fire suppressant water line was ruptured, flooding the building with 2 feet of water.
    "You are all standing in the most efficient state-of-the-art facility in Roswell as of right now, possibly the state and possibly the country," Gross told guests at Tuesday's re-opening. "Honda has made a huge commitment to the go-green program."
    Gross said the new facility, powered by solar panels, is nearly neutral in its consumption of electricity.
    "We generate enough electricity to feed this store for 11 and a half months out of the year," Gross said. "We pay a half a month electric bill, and that's huge, it really is. We expect to be better than grid-neutral through our next grading."
Raminta Jautokas, environmental manager at American Honda Motor Co. and program manager for the Honda Environmental Leadership Program, said Roswell Honda has achieved a significant feat.
    "There is only 19 dealers that are platinum, so we're very proud," she said.
Steven Center, a vice president of American Honda Motor Co., said Honda founder Soichiro Honda was committed to corporate responsibility.
    "The company was founded in 1949 and American Honda was founded in 1959," Center said. "He wanted to build a company that society would want to exist, and part of that is a deep concern for the environment."
Center, vice president of Honda's Environmental Business Development Office, is responsible for Honda's advanced technology vehicle programs, the development of new energy-related business opportunities, green dealer recognition programs and U.S. regulatory compliance activities.
    "As a company, we create a lot of CO2. We've got factories, we've got offices, we're shipping parts back and forth, but more importantly, the products that we manufacture create CO2," Center said. "That's a big challenge for us.
"While we want to do the right thing, it's also a business risk, and for folks like the Krumlands, it's an investment because we're trying to protect our name and the investment that you make in the brand and to do things to help encourage everyone to reduce their CO2."
    Center said Honda created the environmental leadership program to help give auto dealers a guide on how they can reduce their carbon dioxide emissions. Center said there are more than 1,000 Honda automobile dealers in the United States, making Roswell Honda's environmental leadership award that much more significant.
    "Getting 11 months grid-neutral is phenomenal, and I encourage you to go the rest of the way because that's the best place you can be, is to leave no impact on the environment other than to leave a legacy such as a business like this," Center said. "It costs more money to do that, but I think you'll realize it pays back."
Waldo Jimenez, a zone manager for American Honda Motor Co. covering 84 dealerships in 11 states, said Honda has a symbiotic relationship with society.
    "It's not just us, but how you respond to the company itself, and it's heartwarming to see how you respond not only to Roswell Honda, but how you also respond to Honda as well," Jimenez said. "Hopefully, you can see how we and Honda also look at the community and the environment through efforts such as the environmental leadership program and all the technology that we put into our vehicles on a day-to-day basis."
    Bernadette Granger, a deputy district director for U.S. Rep. Steve Pearce, presented Roswell Honda a congressional recognition.
"This proudly recognizes Roswell Honda for receiving Honda's environmental leadership award for implementing noteworthy energy in environmental best practices, presented this day, June 13, 2017, by Congressman Steve Pearce," Granger said.
Mayor Dennis Kintigh thanked Krumland and his wife, Linda, for their investments in Roswell.
    "They have poured themselves in this town, they are supporters of this town," Kintigh said. "They are making Roswell a better place."
Interim editor Jeff Tucker may be contacted at 575-622-7710, ext. 303, or at editor@rdrnews.com. Intern Keilee Templeman can be reached at 575-622-7710, ext. 302, or at intern@rdrnews.com.
Our Parts and Service Departments Remain open during the COVID-19 Outbreak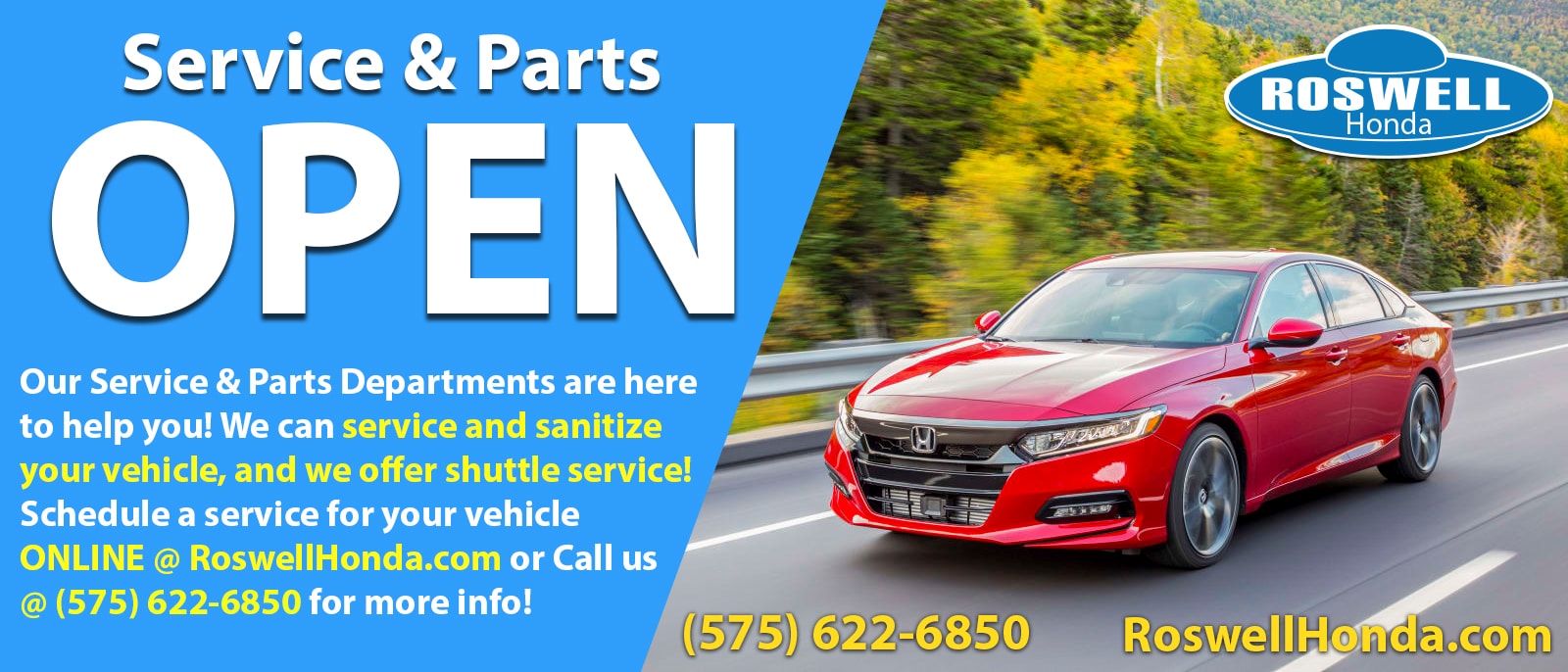 Our Parts and Service Departments have been deemed "Essential Business" and will remain open. We are taking sanitary precautions for both our employees and our customers, as safety is our top priority. Our dealership is being cleaned hourly, and we are practicing social distancing when possible. We are encouraging each employee to stay within their area and wash their hands regularly. If a customer or employee is feeling ill, they are advised to stay home until further notice.

We urge those who can, to stay home and practice social distancing, as that is the way we can do our part to help keep each other safe. As a community, we can help control this virus by practicing the proper procedures, and staying clean.
Our Sales Department is open online!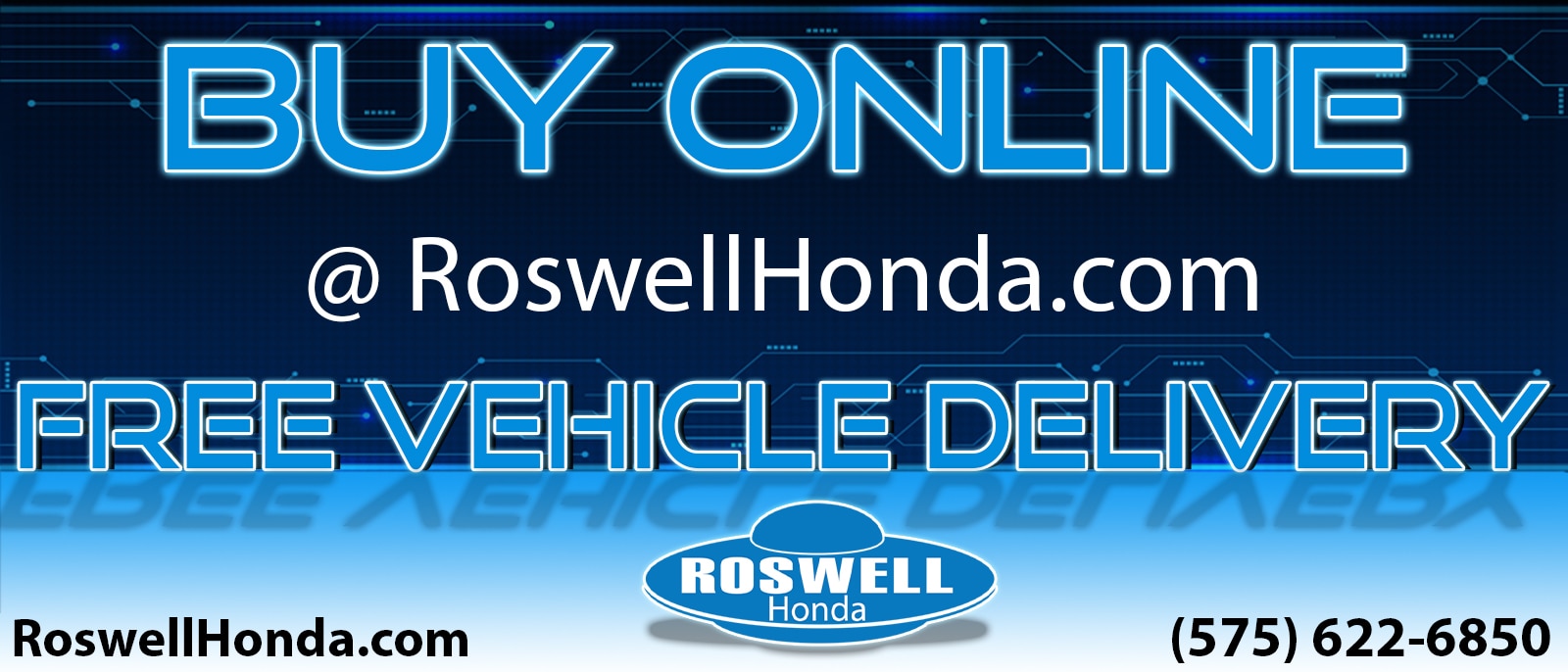 Our Roswell Honda showroom is closed to the public, but we are offering ONLINE shopping! 
Our customers can now do the entire car buying process online on our website! 
Just visit our website, find your vehicle, fill out our credit application, get pre-approved, get a quote, and then we can deliver your vehicle right to your home!
Hours
Monday

8:00am - 7:00pm

Tuesday

8:00am - 7:00pm

Wednesday

8:00am - 7:00pm

Thursday

8:00am - 7:00pm

Friday

8:00am - 7:00pm

Saturday

8:00am - 7:00pm

Sunday

Closed